From LAX Airport
Currently, CarlsbadtoLAX only picks up at Terminal 1 and 7, to go onward to Carlsbad.
To catch the Bus at LAX Airport:
If you are at Terminal 1 or Terminal 7, exit the lower level baggage claim, cross over to the center median and stand under the orange "Shared Rides" sign. For Terminal 1: Find us at the pillar marked with "2A" For Terminal 7: Find us at the pillar marked with "7D"
For all other Terminals exit the Terminal on the baggage claim level, then take the Inter-terminal shuttle to Terminal 1 or 7, cross over and stand under the "shared rides" sign. Follow the same look for the "Van/Bus" instructions above.

Look for the Carlsbad to LAX van/bus with a large butterfly on it, the van/bus operator will also have their name "Damaris" on the vehicle, and the driver will exit briefly to call out "Carlsbad". Please note that your van/bus could also have "CBX" on it as well.
LAX Airport Map
Arrivals Level (Lower Roadway)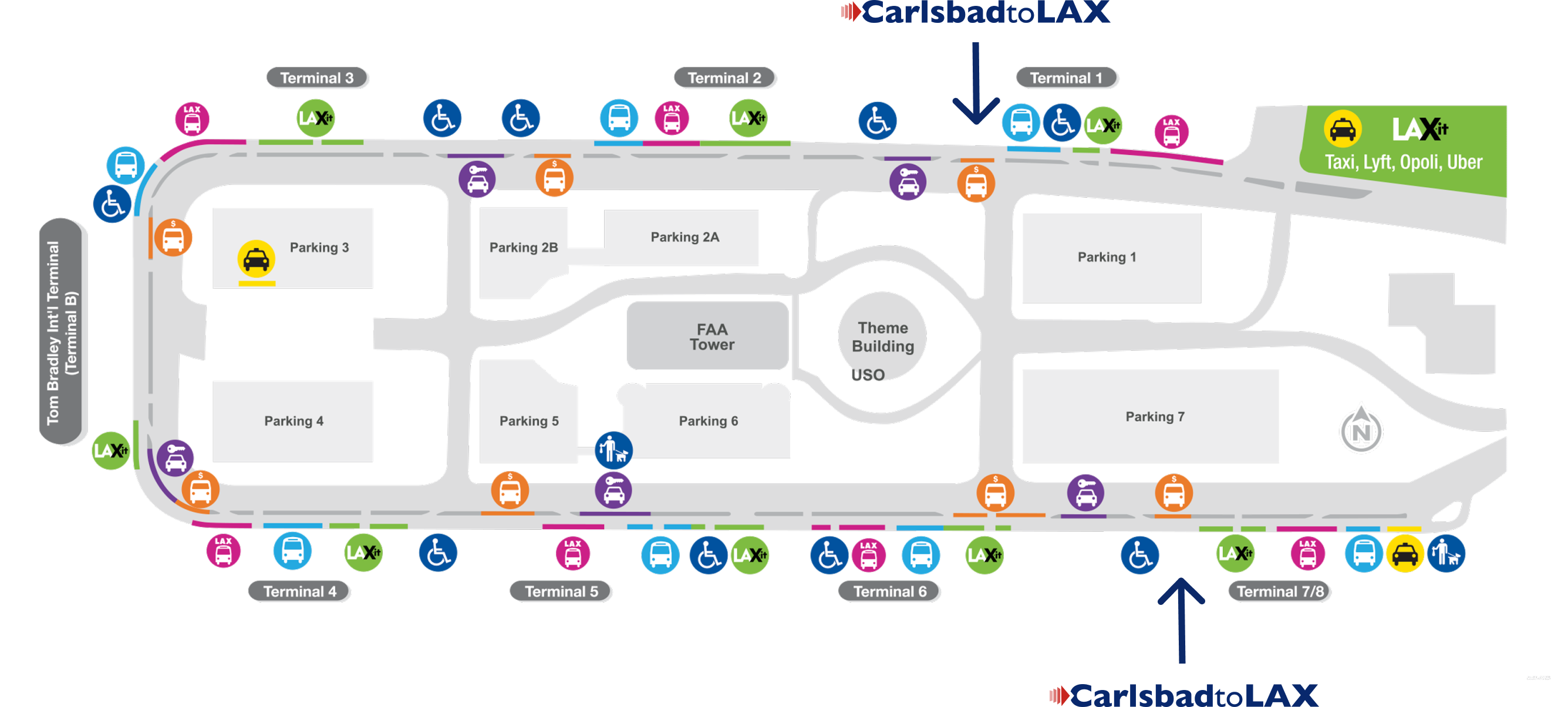 Not sure at which terminal your airline is located? Check the LAX Airline Locator & Airport Terminal Map here.
Inter-terminal Shuttle description:
Frequent, courtesy shuttle service is provided between terminals to assist travelers in getting from one terminal to another (A Route).
The "A" Route transports passengers between terminals. It operates 24 hours a day, 7 days a week, and runs every 10 minutes.
You can even track the A route by clicking here
Walking could be an option:
There are points from the lower level Terminal baggage claims, where you can choose to walk if you arrive and exit baggage claim close enough to Terminal 1 or Terminal 7.
For example, if arriving at Terminal 6 you would be a short walk to Terminal 7.
However, we recommend you please consult the LAX terminal map here or ask LAX staff to determine if walking to Terminal 1 or Terminal 7 would be a feasible option for your specific circumstance.
From Carlsbad Airport
Park at the McClellan-Palomar Airport (CLD), or take a first/last mile option, follow the signs to the airport parking lot, then look for us at the parking lot elevator structure.
How to get to McClellan-Palomar Airport (CLD)
Tip: Remember to look for the butterfly on the bus. Our van or bus at times may also have a 'CBX' logo on it.
You will be able to see our sign there: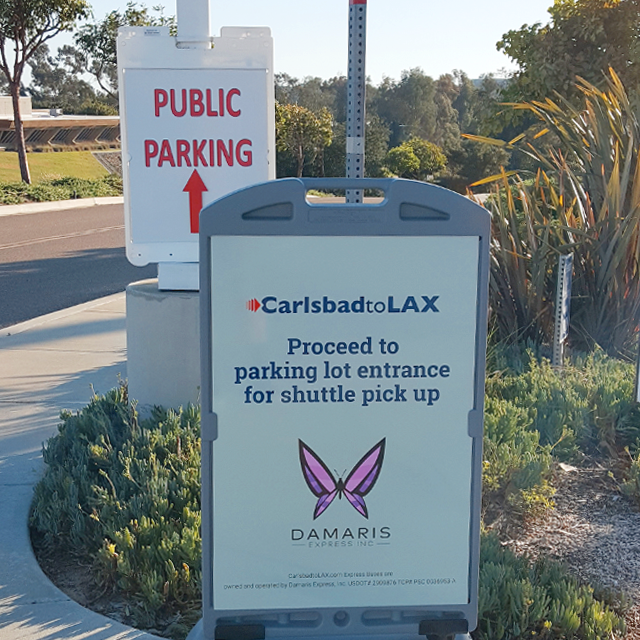 Any questions? Send a message to our Live Chat or email us at info@carlsbadtolax.com for more details.