From LAX Airport
Currently, CarlsbadtoLAX only picks up at Terminal 7, to go onward to Carlsbad.
To catch the Bus at LAX Airport:
From Terminal 7, exit the lower level baggage claim, cross over to the center median and stand under the orange "Shared Rides" sign:

Look for the Carlsbad to LAX bus with a large butterfly on it, the Bus operator will also have their name "Damaris" on the bus, and the driver will exit briefly to call out "Carlsbad".
For Terminals 1-6, 8 and International, exit the Terminal on the baggage claim level, then take the Inter-terminal shuttle to Terminal 7, cross over and stand under the "shared rides" sign, follow the same look for the 'Bus' instructions above.
LAX Airport Map
Arrivals Level (Lower Roadway)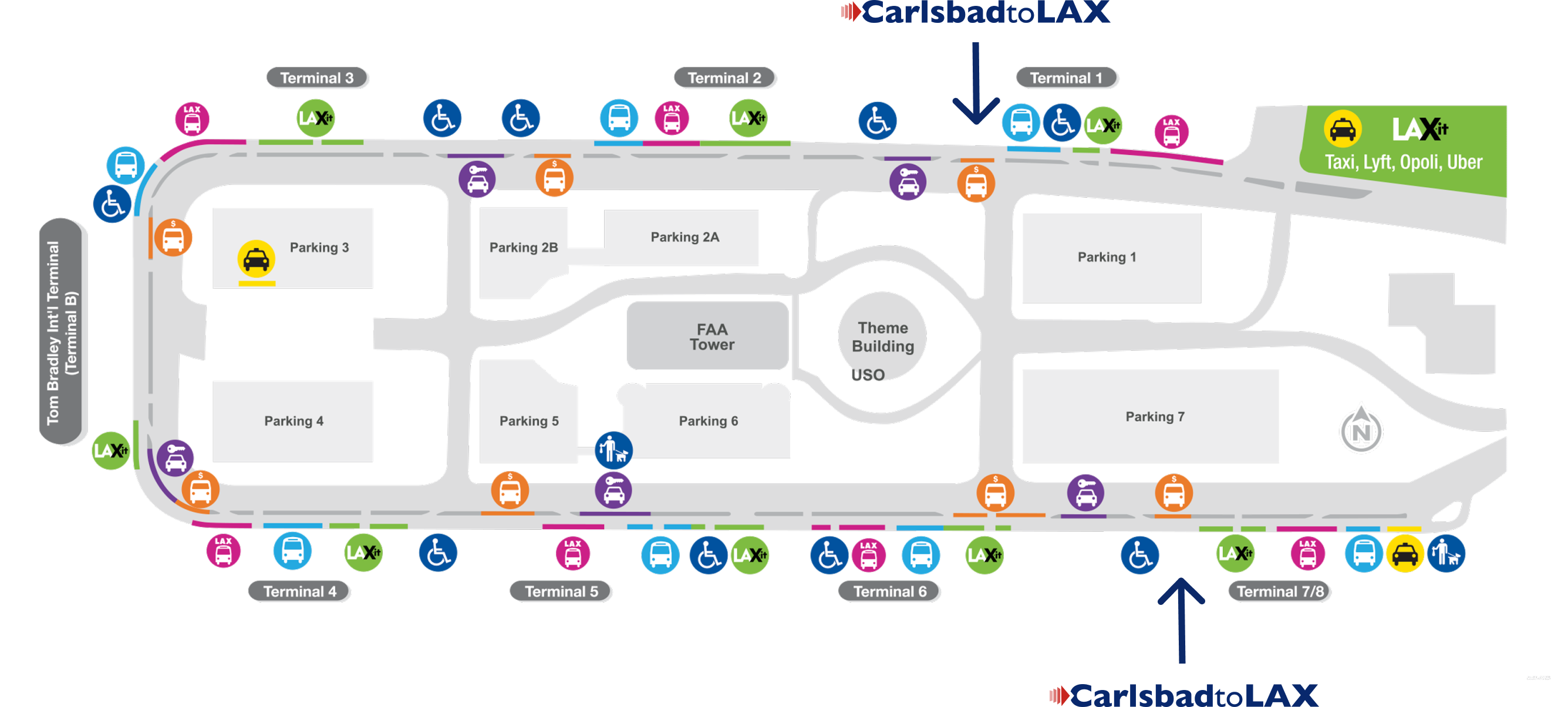 Not sure at which terminal your airline is located? Check the LAX Airline Locator & Airport Terminal Map here.
Inter-terminal Shuttle description:
Frequent, courtesy shuttle service is provided between terminals to assist travelers in getting from one terminal to another (A Route).
The "A" Route transports passengers between terminals. It operates 24 hours a day, 7 days a week, and runs every 10 minutes.
You can even track the A route by clicking here
Walking could be an option:
There are points from the lower level Terminal baggage claims, where you can choose to walk if you arrive and exit baggage claim close enough to Terminal 7.
For example, if arriving Terminal 6 you would be a short walk to Terminal 7.
However, we recommend to please consult the LAX terminal map here or ask LAX staff to determine if walking to Terminal 7 would be a feasible option for your specific circumstance.
From Carlsbad Airport
Park at the McClellan-Palomar Airport (CLD), or take a first/last mile option, follow the signs to the airport parking lot, then look for us at the parking lot elevator structure.
How to get to McClellan-Palomar Airport (CLD)
Tip: Remember to look for the butterfly on the bus.
Any questions? Send a message to our Live Chat or email us at info@carlsbadtolax.com for more details.